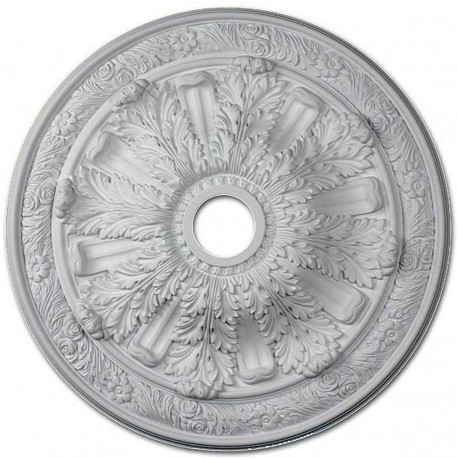 MD-9075 Ceiling Medallion
MD-9075 Golden Ring Ceiling Medallion
Delivery Time: 2 weeks
Diameter: 30"
Material: Polyurethane
Artisan
Hand-painted by Kentuckian artists, these ceiling medallions are completely finished and prepared for installation. Options include solid metallic colors like Gold, Silver and Bronze. More intricate designs include "Fall Bronze" and "Burnt Gold." Since each medallion is hand-painted, every Artisan medallion is unique. The image above is a very good representation of what you'll receive, but prepare for slight variations in brush strokes and distresses.
uDecor ceiling medallions are manufactured with a dense architectural polyurethane compound (not Styrofoam) that allows it to be 100% waterproof. They are installed with architectural adhesive and/or fine finish nails. It can also be seam finished with caulk and spackle. A major advantage of polyurethane is that it will not expand, constrict or warp over time with changes in temperature or humidity. It's safe to install in rooms with the presence of moisture like bathrooms and kitchens. This product will not encourage the growth of mold or mildew, and it will never rot.
Note about installation: Typically it is acceptable to use small nails or screws to assist the adhesive's hold during installation. However, because of the finishing characteristics of Artisan products, you may have a hard time patching holes in the design; you will not have the exact paint used on the medallion. We recommend using a generous amount of construction adhesive during installation and holding the medallion in place, momentarily, while the adhesive takes effect.
Additional Videos
Data sheet
Height

30 inches

Width

30 inches

Weight

15 lbs

Depth

1 3/4 inches
No customer reviews for the moment.
16 other products in the same category: